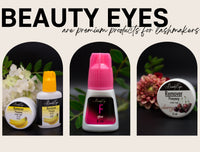 Beauty Eyes
Beauty Eyes are premium products for lashmakers! Among the variety of products, each master will find product for himself that will suit him exactly! 
Beauty Eyes products are used by lashmakers around the world! We have a team of more than 70 representatives. 
Thank you for choosing 'Beauty Eyes' brand! Our experience and advanced technologies make the result of your work brighter and more efficient!