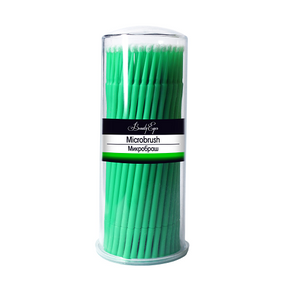 Microbrushes are one of the little things that will be very important during work for the lashmaker or stylist if he is going to become a real professional.

Comfortable applicators for working with various products (cleansers, primers, removers, coating for eyelashes).

Excellent for applying liquids, save their use.

Microbrushes have been tested in the most aggressive liquid: acetone-containing liquid remover (composition of this product: gammabutyrolactone, dimethyl ketone, stearic acid, perfume).

In package: 100 pieces.
Head size: 1.5 mm.
Color: green.