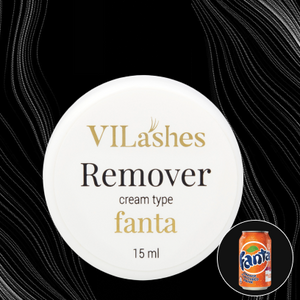 Cream remover with "Fanta" smell.
Doesn't spread, economical to use, easy to apply.
Doesn't cause irritation and burning.
Easily and quickly removes old extended eyelashes.
Exposition time: 5-7 minutes

HOW TO USE: Apply the product evenly to the hitch of the
natural and extended eyelashes with a micro brush.
Leave for 3-5 minutes. Remove lashes with a help of the tweezers
and then also take off remnants of remover.
Remove last remnants of remover by using dry paper napkin.