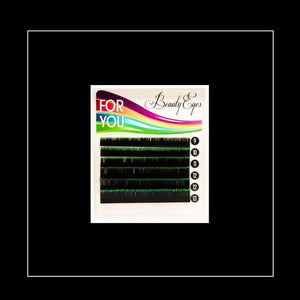 Eyelashes For you
Black - Green
mix 9-13 mm.
Colored eyelashes have a rich shade, well suited for mixes and creative work. Always relevant for both competitive works and in everyday life. A rich palette of saturated colors will help to shade any eye color and add brightness to your everyday look!
Color:
Black - Green
Thickness: 0.07, 0.10
Length: 9-13 mm
Curl: M, C, CC, D, LD, 
6 tapes
Coloring fans For You will make the look bright and deep.
And they will not give a chance to go unnoticed.