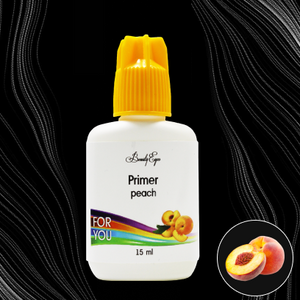 Primer ensures the best coupling of natural and extended eyelashes. Additional eyelash cleansing. Accelerates glue performance during the extension procedure.

Prolongs the life of extended eyelashes for 1-2 weeks due to a better coupling effect.
Pleasant smell of peach.
HOW TO USE:
Apply a small amount of the product on the micro brush and wipe the natural eyelashes before the gluing procedure. Let the eyelashes get dry. Avoid contact with the skin.
Ingredients: Distilled Water, Silane, Ethanol, Acetic Acid, Fragrance